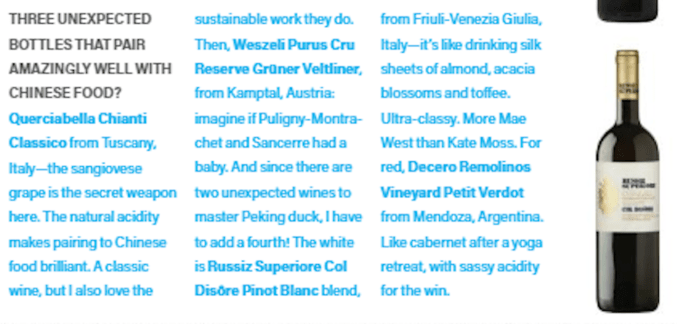 Russiz Superiore & Vanmag
In the latest article titled "The Long and Winding Road" – Vancouver Magazine – written by Robert Stelmachuck, the Collio Col Disôre Russiz Superiore is described as "ultra classy with scents of acacia blossoms, toffee and almonds". It rests in yeasts for an year ca, before it is left in the bottle.
Blend of Pinot Bianco, Friulano, Ribolla Gialla and Sauvignon, owes its name to a hill of the Russiz land that in 1648 was divided in Russiz Disôre" (Russiz Superiore), hearth of the most ancient of the whole feudal settlement and "Russiz di Sott" (Russiz Inferiore), mainly in the plain.
With intense pale yellow colors, it is made of elegant flower scents, accompanied by a herbal background and sweet notes. Mouth-filling, it is smooth and well balanced between sapidity and freshness, with a very long ending that develops in hot and almondy notes.